I Wanted To Build a Boat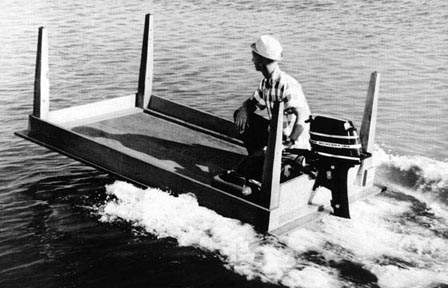 ---
What Is This All About?
This part of my personal site is devoted to all those interested in following the progress of my building a variety of boats designed by Jacques Mertens and associates at Bateau - in my garage in Brisbane, Australia.
I have already completed and successfully launched 2 boats - an OD18 design, details of her construction can be found here; and a Swift SC16 and her details can be viewed here.
About Me
I was a first time builder of ANYTHING, let alone a boat, so these should be exciting projects to undertake. I had only used a screwdriver and electric drill before the OD18 and it was a great experience to learn how to use power tools (just what is a jigsaw anyway; and the circular saw - now there is a tool with ATTITUDE) and the skills associated with building a boat, not that you need any; a stitch and glue boat is a progression, skills are readily picked up.
As the saying goes - if I can do it, anyone can - Really!
Everything you need to know about a stitch and glue vessel is supplied by Bateau. Support is offered not only by the designer but it seems everyone who has ever built one of their vessels (Thanks Guys and Gals).
I have a one stop shop for all my material needs being Boatcraft Pacific, friendly, helpful and better still they are the manufacturers of the epoxy system, I have even met the chemist! Hi Bruce and Liam.
For those of you in Brisbane, you can't go past Boating&RV (Fish Sail Explore), Muir Marine and Whitworths Nautical World for all the chandlery you will ever need; or in my terminology - boat bits.
Please have a good look around the site, it has a lot of detailed information for you if you are thinking of building a stitch and glue boat with a stack of photos.